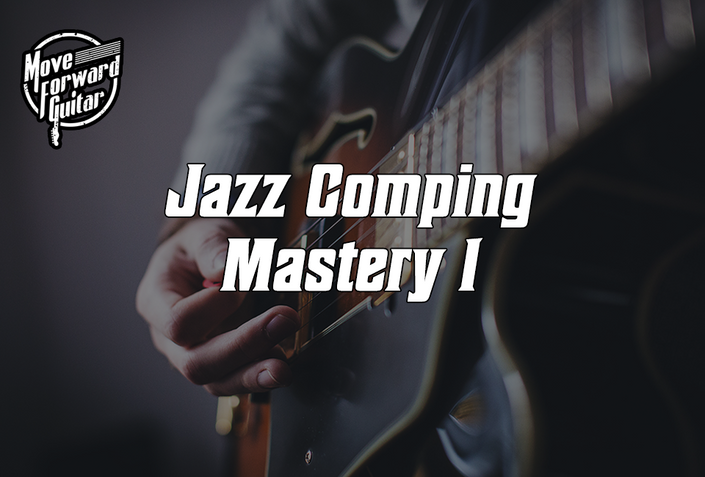 Jazz Comping Mastery 1
A proven method to master 7th chords all over the fretboard for any type of guitarist
Watch Promo
Who this course is for
This first course in the Jazz Comping Mastery series is perfect for any guitarist seeking to unlock the mystery of the fretboard with practical, hands-on exercises that guarantee a deeper understanding of 7th chord harmony and voice leading. From those seeking to play jazz at a high level to singer-songwriters interested in spicing up their own accompaniment, the Essential Inversion Vocabulary course cuts straight to the most efficient and effective ways to actually internalize new and exciting chord forms on the guitar.
What this course is about
This course is all about building a whole language of chord options off of a few basic 7th chord shapes in a logical, understandable, and methodical way. By doing this we multiply our chord voicing options into 60 unique chord forms! Does that sound awesome but intimidating? Don't worry, the exercises are carefully crafted to keep the awesome and get rid of the intimidation. This customized approach to practicing tons of new 7th chords is designed to make clear sense to any level of guitar player.
Why this information is beneficial
Beyond just learning a large of amount of chord vocabulary options, the exercises in this course are designed to make your new harmonic knowledge immediately practical, useable, and applicable to any of the music that you're working on right now! The powerful combination of learning solid theoretical concepts by means of actually playing organized exercises will leave you feeling like you just leveled up in a way that is both intellectual and creative.
How to use this course
The most exciting part about this course is that it's able to cover a vast amount of information through a simple, understandable, and linear process. Because of that, the value that you receive from these lessons will last for the rest of your musical life. The primary objective when taking this course should be on understanding what the exercises are and how to practice them, not on getting them down as you go. Once you understand the method and approach to practicing this content, you can then carry it with you forever, steadily working towards a deep and controlled level of mastery.


What you get with this course:
24/7 access to 27 video lessons (over 3 hours)
Play-a-long tracks

Three downloadable backing tracks to practice with

Jazz Comping Mastery 1 eGuide

Includes all of the charts and diagrams presented in each video lesson
Includes practice instructions
Includes lead sheets for songs mentioned in the course
Practice instructions

Step by step guidance on how to practice and retain all of the information presented in the course
What Students Are Saying:
"I just want to say thank you for this course, it is forcing me to follow a system that causes you to practice chords and inversions that you would not do on your own. I have jumped from teacher to teacher on YouTube for years and never followed a practical structure. This course has been a great tool, I highly recommend it to anyone who is looking to learn this type of music!" - William (student taking 'Jazz Comping Mastery 1')


A Personal Message from Jared:
Dear guitarists,
Over the last decade and a half I've taught thousands of hours of lessons to hundreds of students while continuing to practice and learn diligently myself. Throughout this process I discovered a deep passion for creating unique approaches to attaining a high level of musicianship on the guitar. I learned firsthand that not all exercises are created equal. To attain any desired musical skill we must design a specific and thorough method that takes us straight to the center of our goal, leaving no gaps in our ability or knowledge. I've created, tested, and refined a multitude of these methods over the years and the curriculum presented in this course is one of them.
At the heart of all great learning methods is problem solving. How do we transition from lacking certain abilities to being able to use them fluently? A properly designed exercise or curriculum should get us there without us even realizing it, so long as we follow the steps laid out for us. This is exactly how Jazz Comping Mastery 1 is set up. After seeing this approach work both for myself and for many of my students, you can rest assured that if you practice exactly what's assigned in these video lessons you will attain and master the information in an extremely efficient, effective, and enjoyable way.
This is a unique method for practicing, seeing, connecting, and playing chord forms on the guitar that you won't find anywhere else. To learn this information from me privately in one-on-one guitar lessons would take months of weekly sessions and cost many hundreds of dollars at $70 per lesson. For only a little more than one of those private lessons you can get the entire program carefully produced as a self-paced, step-by-step video course.
My goal is to help musicians everywhere find more fulfillment in their practicing by sharing approaches that really work. I put a great amount of thought and care into creating this course with the sole intention that it be truly valuable for you. I hope you find this to be the case and I look forward to creating more courses that help to deepen the level of joy we can experience through music.
Let me know if you have any questions or feedback any time by leaving a comment within the course, or email me at [email protected]
Happy Practicing! :)
Jared Borkowski
Praise for Jared's Teaching Approach
"Jared possess a special skill far beyond being a great and knowledgeable musician, he is a wonderful teacher! I have been a student with Jared for several years and I am thrilled that he has entered the online teaching world. Jared's style is unique in that he has the uncanny ability to know where the roadblocks are and provides an approach to get around them. Five star rating for Jared as the best guitar teacher I have had!" - Scott S. (student)
"Jared's approach to teaching theory is very accessible and is easily the most practical thing I've ever learned as a guitar player. Jared taught me how to see and use chord inversions, which has greatly improved my familiarity with the fretboard, and allows me to now play in more interesting and creative ways." - Evan W. (student)
"I've been studying with Jared for years and I always thought that he would make the perfect online teacher. He has a way of taking seemingly complex musical subjects and simplifying them into a few rules and principles that clarify a vast amount of information. Jared has taught me the chord inversion knowledge using the exact approach that he presents in this course and I can tell you first hand that his system works!" - Linda C. (student)
"Through studying jazz guitar with Jared I have been able to achieve many long term goals including making my own music, improvising/playing with other musicians, and increasing my theoretical mastery of the guitar/music as a whole. As I continue to improve and reach more musical goals, I will be buying these instructional videos and am very excited to benefit from his teaching methods in a new format, one that is highly visual/interactive and can be reviewed at my leisure." - Steve M. (student)

30 Day Money Back Guarantee
Your purchase is risk free! We're confident that this course will provide immense value to your guitar playing and musicianship. However, if you decide after enrolling that it's not the right fit for you, for any reason, just contact us within the first 30 days and we will give you a full refund. :)
Your Instructor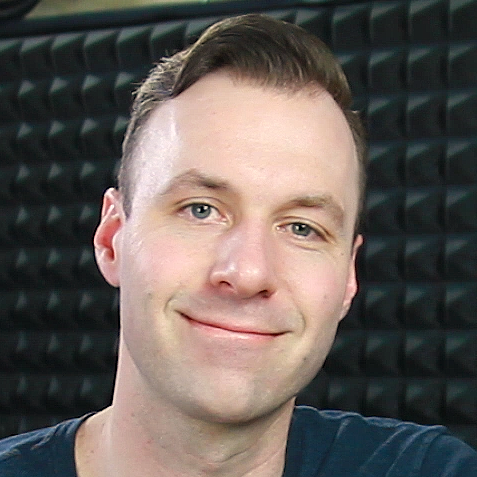 Jared Borkowski is a guitarist from Seattle who has been teaching and playing professionally for nearly twenty years. He has performed and recorded with artists such as Macklemore, Stewart Copeland of The Police, Allen Stone, and Ben Smith of Heart. Jared holds a degree in Jazz Studies from the University of Washington School of Music where he also extensively studied classical guitar performance, music theory, and composition.
Follow Jared's teaching through his website at soundguitarlessons.com and on his YouTube channel.

Frequently Asked Questions
What skills do I need to take this course?
You need to be able to find note names on the guitar (even if it takes you time, that's okay!) You need to be able to comfortably switch between chord forms (even open string chord forms are fine)
When does the course start and finish?
The course starts now and never ends! It is a completely self-paced online course - you decide when you start and when you finish.
How long do I have access to the course?
How does lifetime access sound? After enrolling, you have unlimited access to this course for as long as you like - across any and all devices you own.
What if I am unhappy with the course?
We would never want you to be unhappy! If you are unsatisfied with your purchase, contact us in the first 30 days and we will give you a full refund.